Laüra HOSKINS
Creative Fields GALLERY 2021-2022
Laüra HOSKINS 'Along The Wye', linocut in reduction, 29x21cm, edition 11/13. France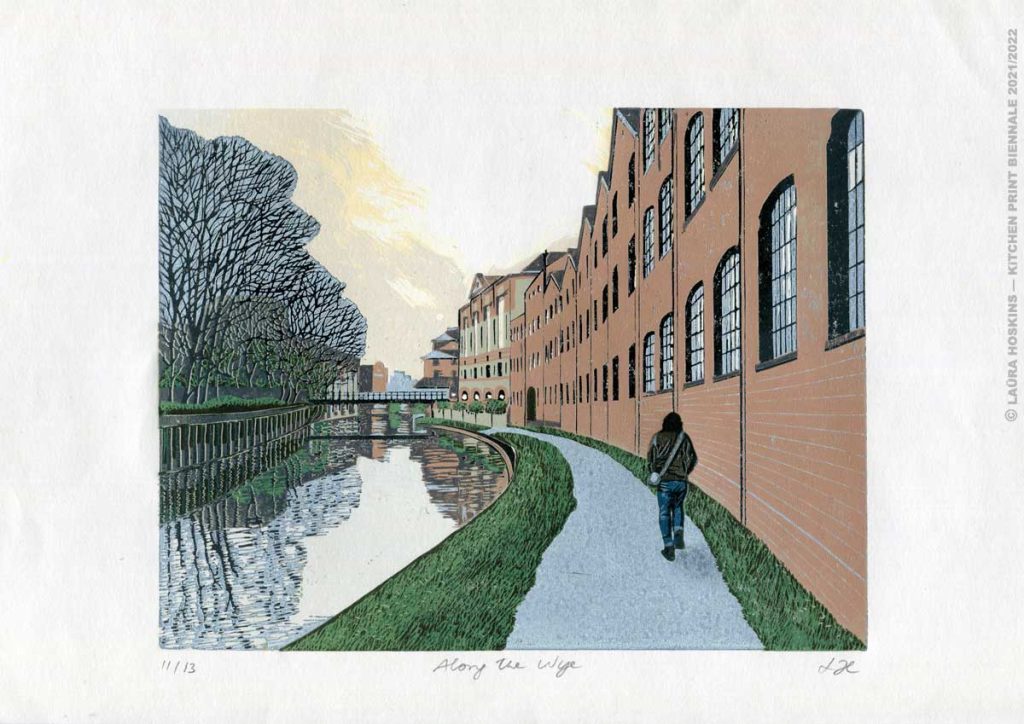 For this print, I played with the order of the colors going straight from gray to black, then lightening it all up and making the fine lines of the trees. I wanted to capture the reflections of the landscape in the water. This is an image made from a photograph I took in Guildford over Christmas 2019. This is my partner walking early in the morning along the canal that leads into the town center.
Pour cette estampe, j'ai joué avec l'ordre des couleurs en passant directement du gris au noir, pour ensuite éclaircir le tout et rendre les traits fins des arbres. J'ai voulu capturer les reflets du paysage dans l'eau. Il s'agit d'une image faite d'après une photographie que j'ai prise à Guildford durant la période de Noël 2019. C'est mon ami qui marchait tôt le matin, le long du canal qui mène vers le centre-ville.
Estampe réalisée avec la technique de la linogravure à planche perdue.
Guilford est une ville du Royaume-Uni située au sud de Londres. Dans le titre de l'estampe, "Along" signifie "Le long" et "The Wye" est le nom de la rivière qui traverse Guilford. NDLR