Description
Dedication by the hand of the author/inventor. Printed in France. Sendings for the world.
Simple etching with cardboard, soy wax ground and aquatint with the Kitchen Graff', a DIY airbrush.
Please, choose your flag at the top to make the purchase in english language. In case of problem to purchase it in this website, you can contact me and buy it directly by email at atelier.kitchen.print@gmail.com
Translation from the original french manual 'La gravure simple' written by Émilie Aizier alias Émilion.
English translation: Simon Burder, artist & lithograph, from Oaksfineart studio based in London.
Preface: Rémi Mathis, editor-in-chief for the review 'Nouvelles de l'estampe'. Curator of the 17th century collections in the Department of Prints and Photography at the National Library of France.
You will receive your manual what ever your country in the world! (US, Canada, France, Australia, Japon, Suisse etc.). The delivery time of the book is around one to two months for countries far from France such as North America, South America, Australia, Japan …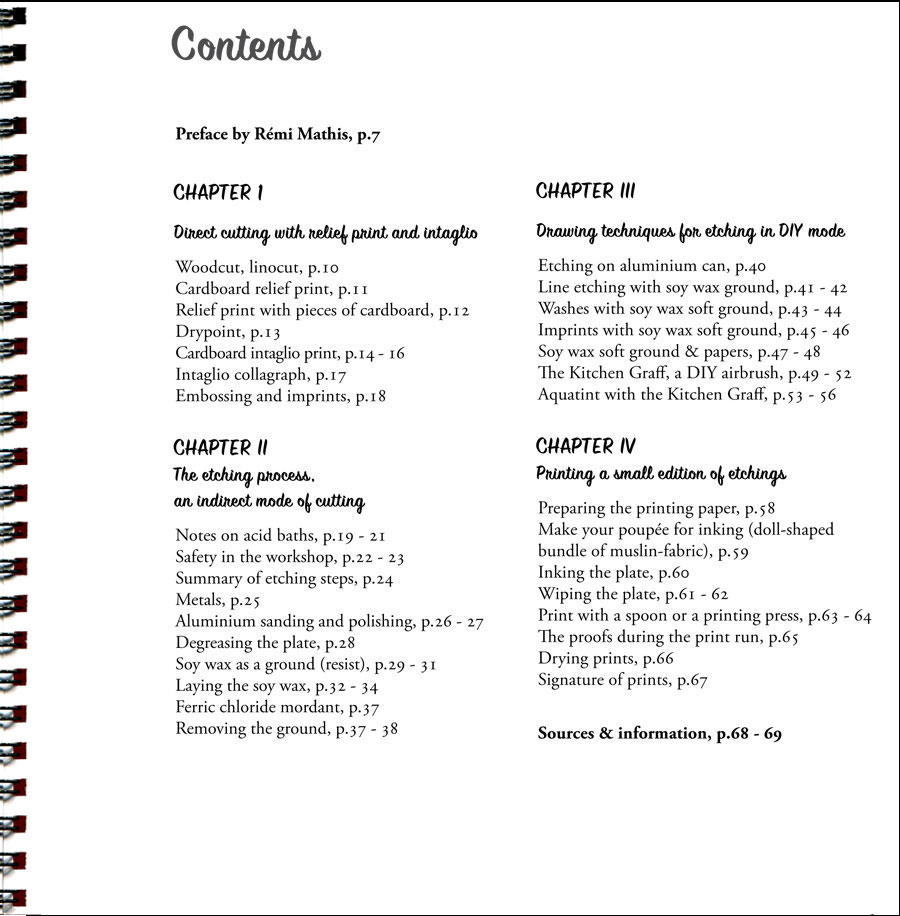 This manual is a self publication entirely designed, prepared and distributed by the inventor of the Kitchen Litho and the Simple etching, Émilie Aizier alias Émilion from the Atelier Kitchen Print (unemployed and to stay active, she created in her self-publishing business books and provides art printing lessons in his workshop-house on request). A close relative ensures the technical part of the site. The author works to disseminate his technique via newsletters, social networks and to highlight the artists practicing the technique with the organization of the "Kitchen Litho Biennale" competition (gratis, free entry). In addition, in an ethical approach, you will not find it in Amazon and this manual is printed by a specialized social integration institute in Poitiers Esat Essor. The books are printed between only 10 and 30 copies at a time in reprography, as and when requested.
It is thanks to the passion and the price higher than the classic books that the publishing house manages to last over time. Émilie Aizier has been selling her books since 2012. A big thank you to all those who support my research, my creations. The objective of this independent publishing house is not to sell thousands of books (self-publishing does not allow it) to anonymous but hundreds per year autographed by the hand of the author on behalf of the reader. Atelier Kitchen Print's status as a micro-enterprise is indicative of its company's modest turnover. In addition, the content of these manuals (although fascinating for many engravers) remains confidential in the sense that they are in reality intended only for enthusiasts, therefore not for the general public. My books are mainly aimed at professionals or enthusiasts who wish to discover new ways of doing and thinking about the technique of printmaking. Émilie Aizier's books present the results of research carried out over several years, with its hazards (dead ends, imperfections, finds). These books are one of a kind and no jackpot or platform (multinational collaborative financing company) works with the studio's publishing house. Profits from the sale of books go mainly to printing new copies of books for sale as well as food-type purchases (net profits). We hope increase our benefits to open one day maybe un real workshop in a town, open to the general public.
Learn and support the technique through the acquisition of the Simple etching manual. To buy this manual is to support an original project as if you were making one-off participatory support, it is to support an inventor and her micro-enterprise which in reality only holds thanks to the passion for printmaking in homemade mode. Finally, each manual is dedicated to the name of the purchaser by hand by the author.
70-pages handbook (all color version) printed in France by the social establishment ESAT ESSOR. Color cover. Spiral binding. 21 x 21 cm. ISBN 978-2-4920230-5-7
Sending from France without tracking number. You will receive the manuals in USA, Australia, South America, South Africa etc. in around one or two months.
Martin.d comment in Instagram 'It's full of innovative ways of making prints without needing lots of kit. Mine arrived quickly from France to England. (If you use TransferWise or Revolut you can pay in Euros without having the bank charging you)'