Stéphane Maubois
Creative Fields GALLERY 2019/2020
Stéphane Maubois 'Poulpe orange', 28 x 20 cm, soft-ground etching & aquatint on zinc, edition 2/25. France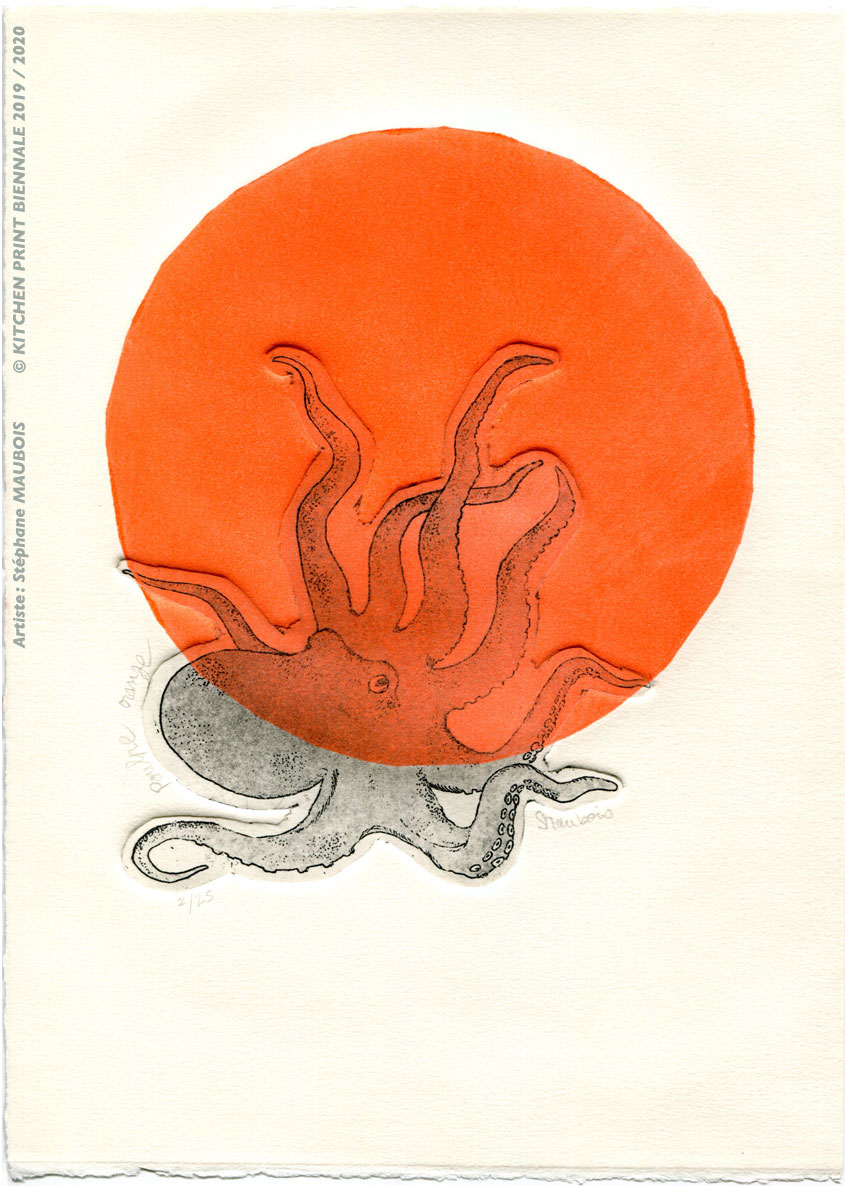 My work consists of images attached to the animal, plant and childhood world. My graphic style is characterized by a mixture of observation, stylization and memories of beloved images to form a bestiary inspired by didactic boards but which I hope expressive and personal. To make my prints, I use my own sketches and models (personal drawings, observation sketches, animal figurines from my childhood, didactic boards, photos …). Many artists and illustrators such as Benjamin Rabier, Tomi Ungerer, Philippe Dumas, Arnold Lobel among others, have helped shape my outlook on things. For some time, after having discovered the cut-out plates of the Polish painter-engraver artist Joseph Hecht at the Gravelines Museum, I cut my zinc plates following the shape of the subject, leaving only a small margin around. I can thus print several plates on the same print, by combining the engravings in different ways.
*Title 'orange octopus'
Mon travail est constitué d'images attachées au monde animal, végétal et à l'enfance. Mon style graphique se caractérise par un mélange d'observation, de stylisation et de souvenirs d'images aimées pour former un bestiaire inspiré des planches didactiques mais que j'espère expressif et personnel. Pour réaliser mes estampes, j'utilise mes propres croquis et des modèles (dessins personnels, croquis d'observation, figurines animalières de mon enfance, planches didactiques, photos…). De nombreux artistes et illustrateurs comme Benjamin Rabier, Tomi Ungerer, Philippe Dumas, Arnold Lobel parmi d'autres, ont contribué à forger mon regard sur les choses. Depuis quelques temps, après avoir découvert les plaques découpées de l'artiste peintre-graveur polonais Joseph Hecht au Musée de Gravelines, je découpe mes plaques de zinc en suivant la forme du sujet, en ne laissant qu'une petite marge autour. Je peux ainsi imprimer plusieurs plaques sur un même tirage, en combinant les gravures de différentes façons.
*Technique du vernis-mou et aquatinte