Nolwenn Heyraud
Creative Fields GALLERY 2019/2020
Nolwenn Heyraud 'Unexpected', soft linocut, 29,7 x 21 cm, edition 7/20. France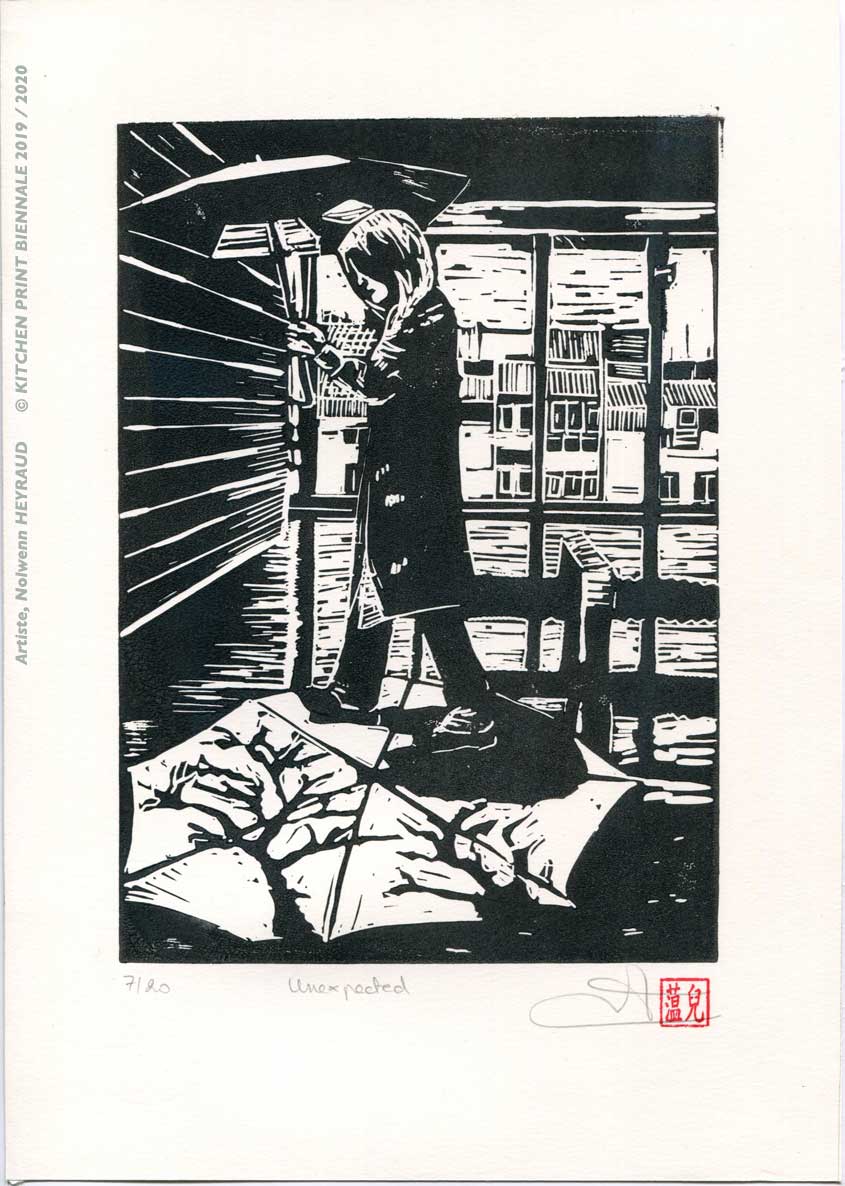 I have always tried to confront my ideas with new techniques. First with painting for more than ten years, then sculpture in France, ceramics in Asia and finally, since my return to France in 2018, engraving has become a link between my previous practices. My favorite subject is the female figure, often from a personal photographic work done with people around me but also from self-portraits. I work on these silhouettes that I transpose into a world imbued with poetry, in delicate wanderings mixed with travel memories and mental projections. Where can you find shelter, inside or outside? Through this stroll between dream and reality, I seek the answer.
*soft linocut: linocut form in a specific plate softer than linoleum which is printed by hand.
J'ai toujours cherché à confronter mes idées à de nouvelles techniques. Tout d'abord à Paris avec la peinture pendant plus de dix ans, puis la sculpture, la céramique en Asie et enfin, depuis mon retour en France en 2018, la gravure vient comme un trait d'union entre mes pratiques précédentes. Mon sujet de prédilection est la figure féminine, souvent à partir d'un travail photographique personnel réalisé auprès de personnes de mon entourage mais aussi d'autoportraits. Je travaille ces silhouettes que je transpose dans un monde empreint de poésie, dans de délicats vagabondages mêlés de souvenirs de voyage et de projections mentales. Oú trouve t'on abri, à l'intérieur ou à l'extérieur ? À travers cette déambulation entre rêve et réalité, je cherche la réponse.
* Titre "Unexped' : Inattendu  — Technique Soft linocut  : forme de linogravure dans une  plaque spécifique plus souple que le linoleum qui s'imprime à la main. NDLR