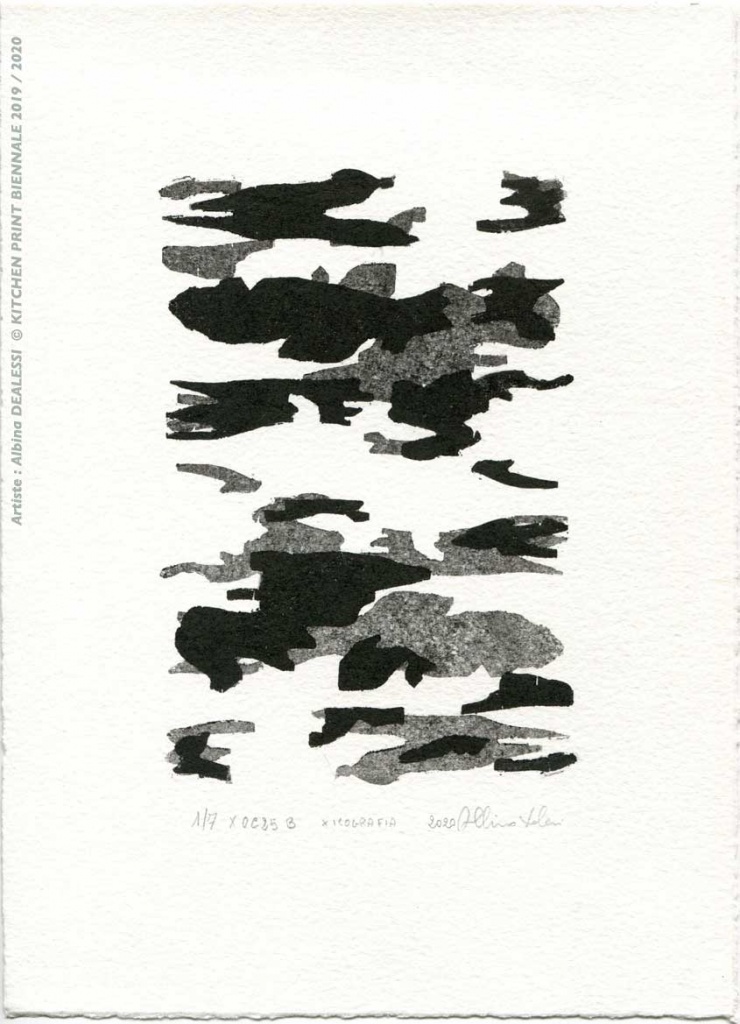 Link to the web gallery / Lien de la galerie en ligne https://www.atelier-kitchen-print.org/field/gallery-2019-2020/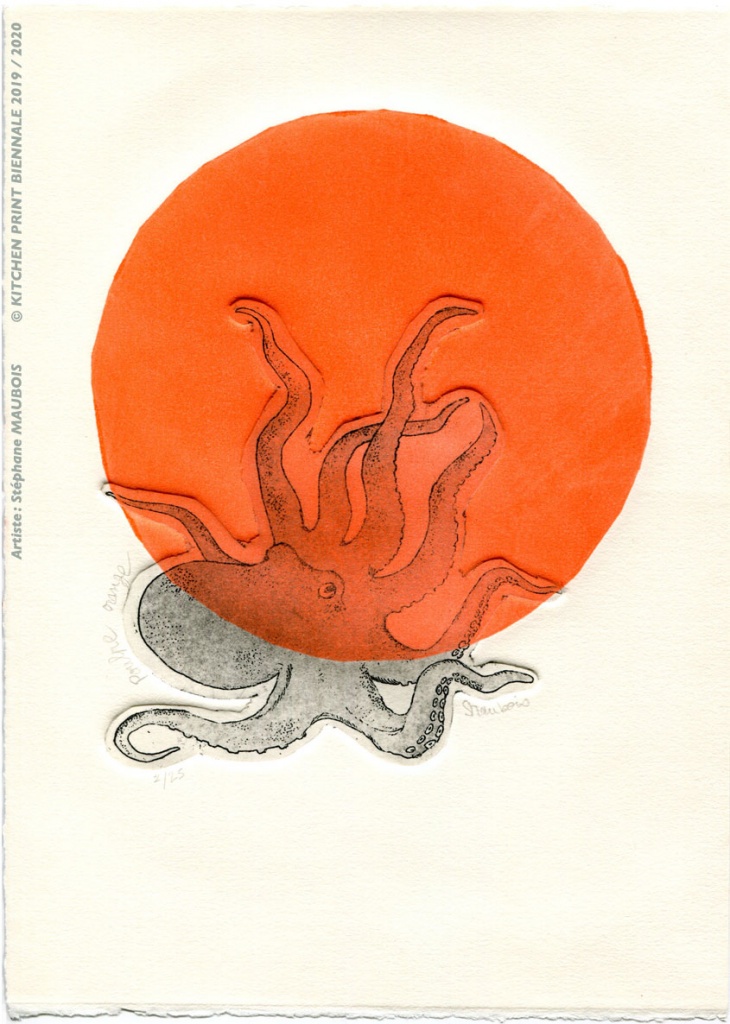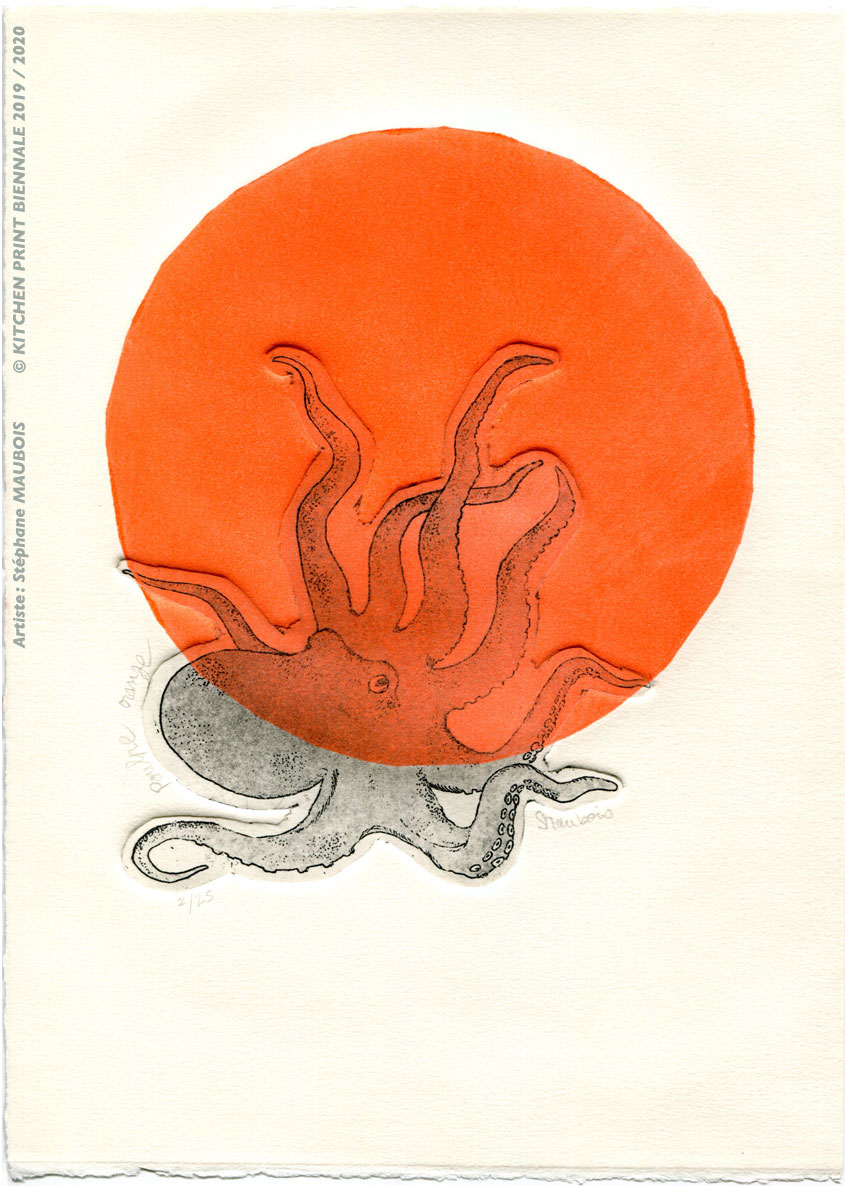 'Poulpe orange', 28 x 20 cm, soft-ground etching & aquatint on zinc, edition 2/25. France
My work consists of images attached to the animal, plant and childhood world. My graphic style is characterized by a mixture of observation, stylization and memories of beloved images to form a bestiary inspired by didactic boards but which I hope expressive and personal. To make my prints, I use my own sketches and models (personal drawings, observation sketches, animal figurines from my childhood, didactic boards, photos …). Many artists and illustrators such as Benjamin Rabier, Tomi Ungerer, Philippe Dumas, Arnold Lobel among others, have helped shape my outlook on things. For some time, after having discovered the cut-out plates of the Polish painter-engraver artist Joseph Hecht at the Gravelines Museum, I cut my zinc plates following the shape of the subject, leaving only a small margin around. I can thus print several plates on the same print, by combining the engravings in different ways.
*Title 'orange octopus'
Mon travail est constitué d'images attachées au monde animal, végétal et à l'enfance. Mon style graphique se caractérise par un mélange d'observation, de stylisation et de souvenirs d'images aimées pour former un bestiaire inspiré des planches didactiques mais que j'espère expressif et personnel. Pour réaliser mes estampes, j'utilise mes propres croquis et des modèles (dessins personnels, croquis d'observation, figurines animalières de mon enfance, planches didactiques, photos…). De nombreux artistes et illustrateurs comme Benjamin Rabier, Tomi Ungerer, Philippe Dumas, Arnold Lobel parmi d'autres, ont contribué à forger mon regard sur les choses. Depuis quelques temps, après avoir découvert les plaques découpées de l'artiste peintre-graveur polonais Joseph Hecht au Musée de Gravelines, je découpe mes plaques de zinc en suivant la forme du sujet, en ne laissant qu'une petite marge autour. Je peux ainsi imprimer plusieurs plaques sur un même tirage, en combinant les gravures de différentes façons.
*Technique du vernis-mou et aquatinte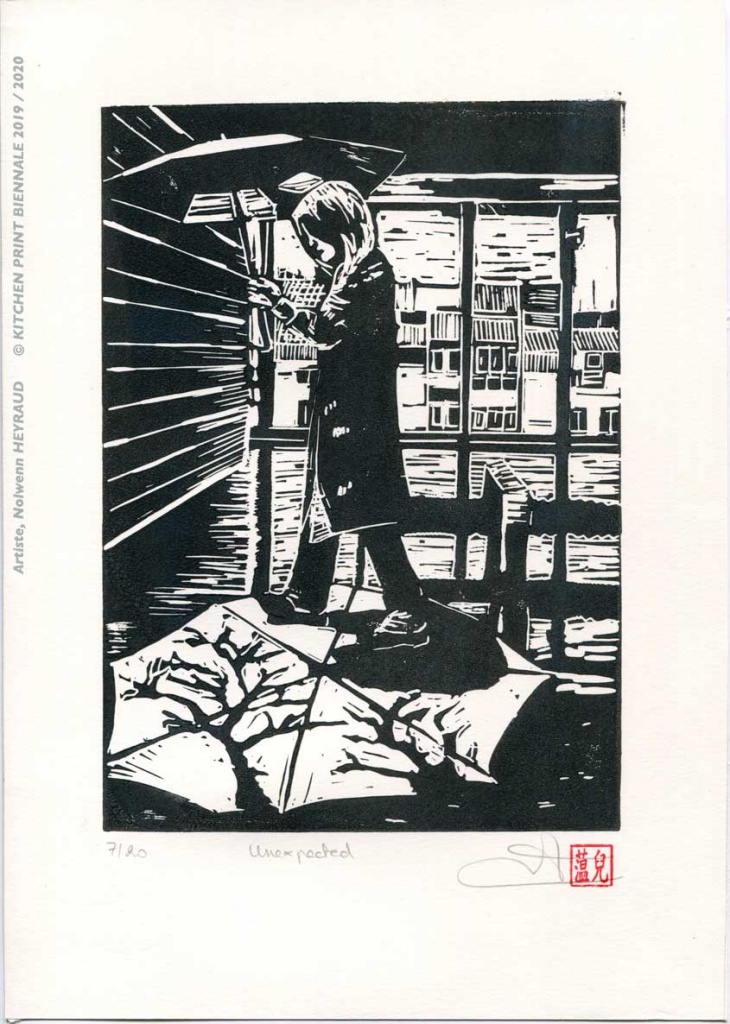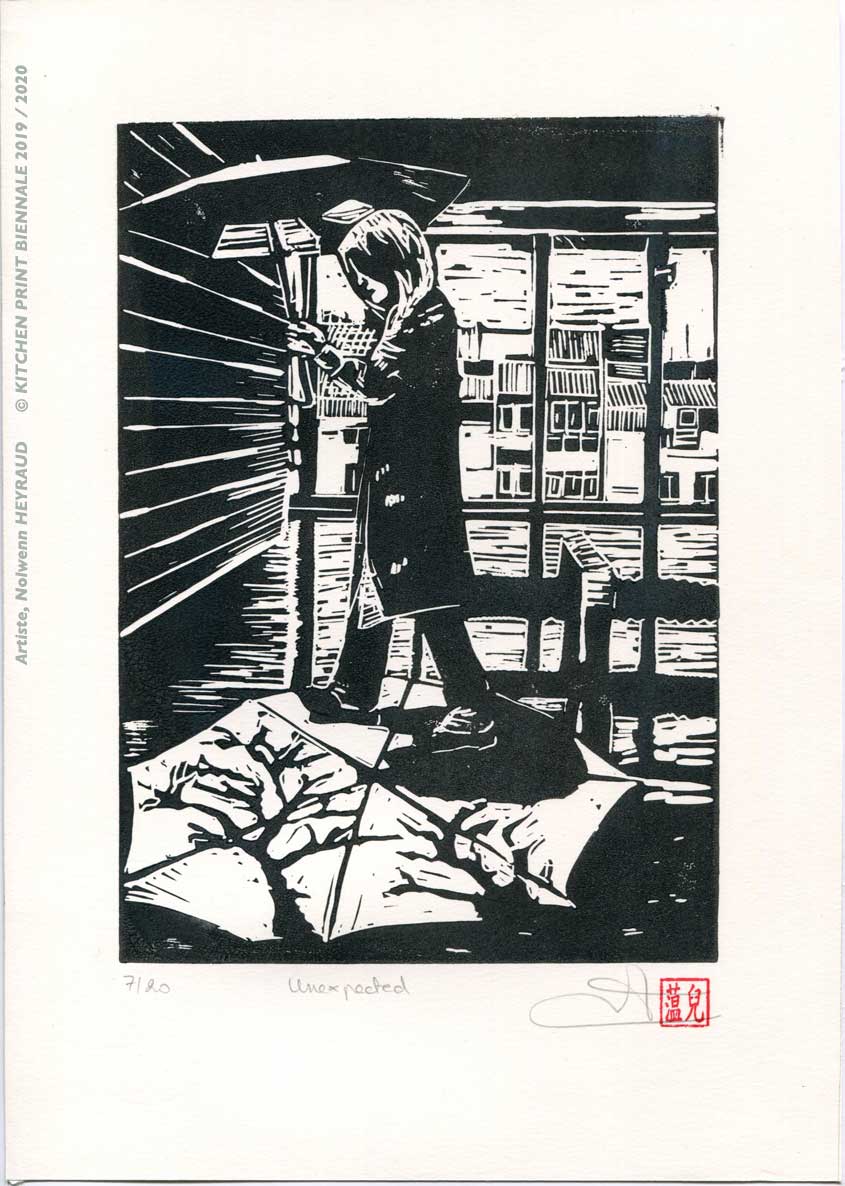 'Unexpected', soft linocut, 29,7 x 21 cm, edition 7/20. France
I have always tried to confront my ideas with new techniques. First with painting for more than ten years, then sculpture in France, ceramics in Asia and finally, since my return to France in 2018, engraving has become a link between my previous practices. My favorite subject is the female figure, often from a personal photographic work done with people around me but also from self-portraits. I work on these silhouettes that I transpose into a world imbued with poetry, in delicate wanderings mixed with travel memories and mental projections. Where can you find shelter, inside or outside? Through this stroll between dream and reality, I seek the answer. *soft linocut: linocut form in a specific plate softer than linoleum which is printed by hand.
J'ai toujours cherché à confronter mes idées à de nouvelles techniques. Tout d'abord à Paris avec la peinture pendant plus de dix ans, puis la sculpture, la céramique en Asie et enfin, depuis mon retour en France en 2018, la gravure vient comme un trait d'union entre mes pratiques précédentes. Mon sujet de prédilection est la figure féminine, souvent à partir d'un travail photographique personnel réalisé auprès de personnes de mon entourage mais aussi d'autoportraits. Je travaille ces silhouettes que je transpose dans un monde empreint de poésie, dans de délicats vagabondages mêlés de souvenirs de voyage et de projections mentales. Oú trouve t'on abri, à l'intérieur ou à l'extérieur ? À travers cette déambulation entre rêve et réalité, je cherche la réponse.
* Titre »Unexped' : Inattendu — Technique Soft linocut : forme de linogravure dans une plaque spécifique plus souple que le linoleum qui s'imprime à la main. NDLR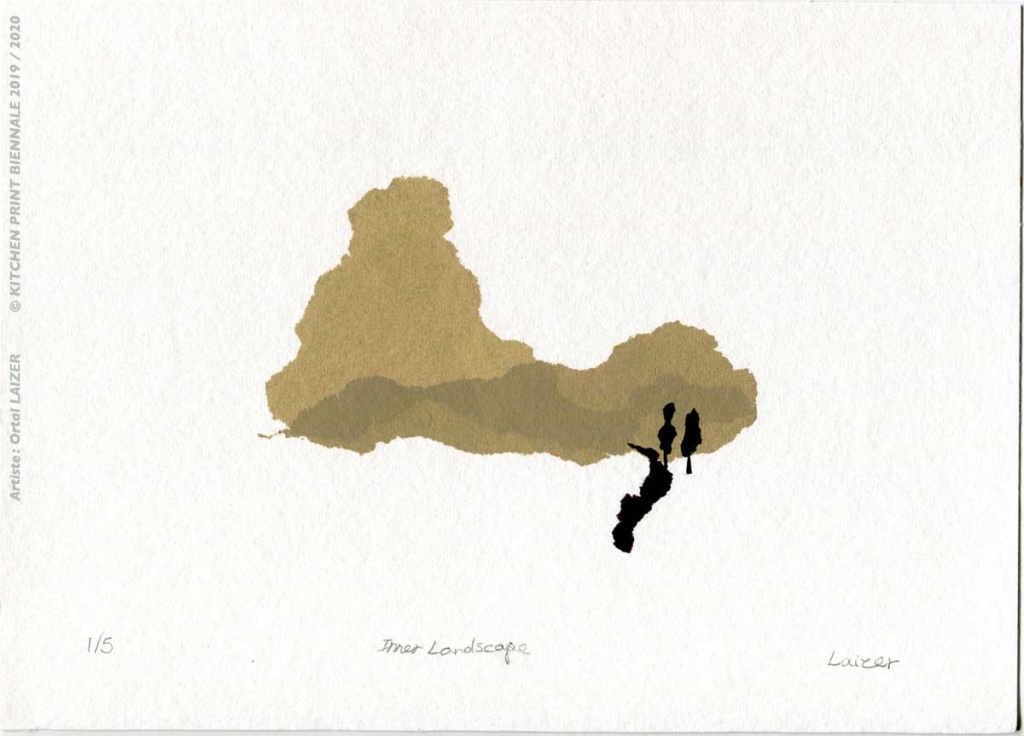 'Inner Landscape', screen-printing, 28 x 20 cm, edition 1/5. Netherlands
I like to play with the texture of torn paper and transparent inks to create an imaginary landscape that I wish I could travel to. 
J'aime jouer avec la texture d'un papier déchiré et des encres transparentes pour créer un paysage imaginaire dans lequel j'aimerais pouvoir voyager.
*Inner landscape, paysage intérieur NDLR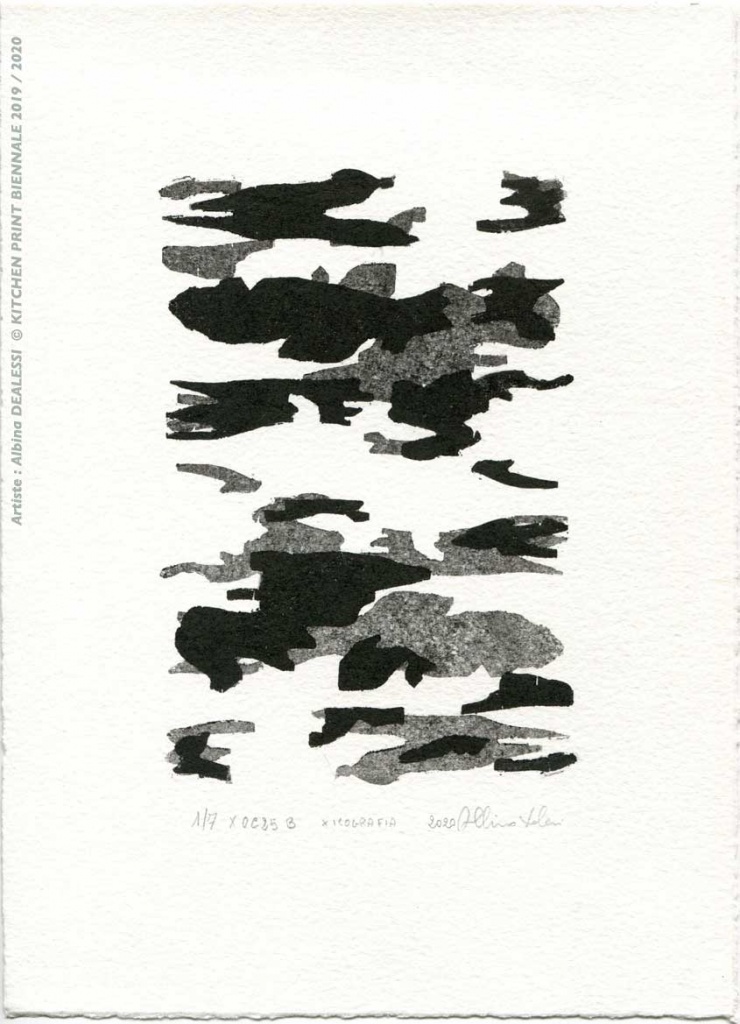 Title 'XOC25 B', woodcut, 20 x 28 cm, edition 1/7. Italy
This print belongs to a series entitled « Wandering Forms » ('forme erranti' in Italian language). The present forms stem from the details left in the previous brushstrokes and thus create her personal forms. Forms which seometimes repeat themselves or move around and Others are created. They give life to a path which has to be explored.
Cette estampe appartient à une série intitulée « formes errantes » (« forme errante » en italien). Les formes présentes découlent des détails laissés par les coups de pinceaux. Des formes qui se répètent parfois ou se déplacent pendant que d'autres se créent. Ils donnent la vie vers une voie qui doit être explorée.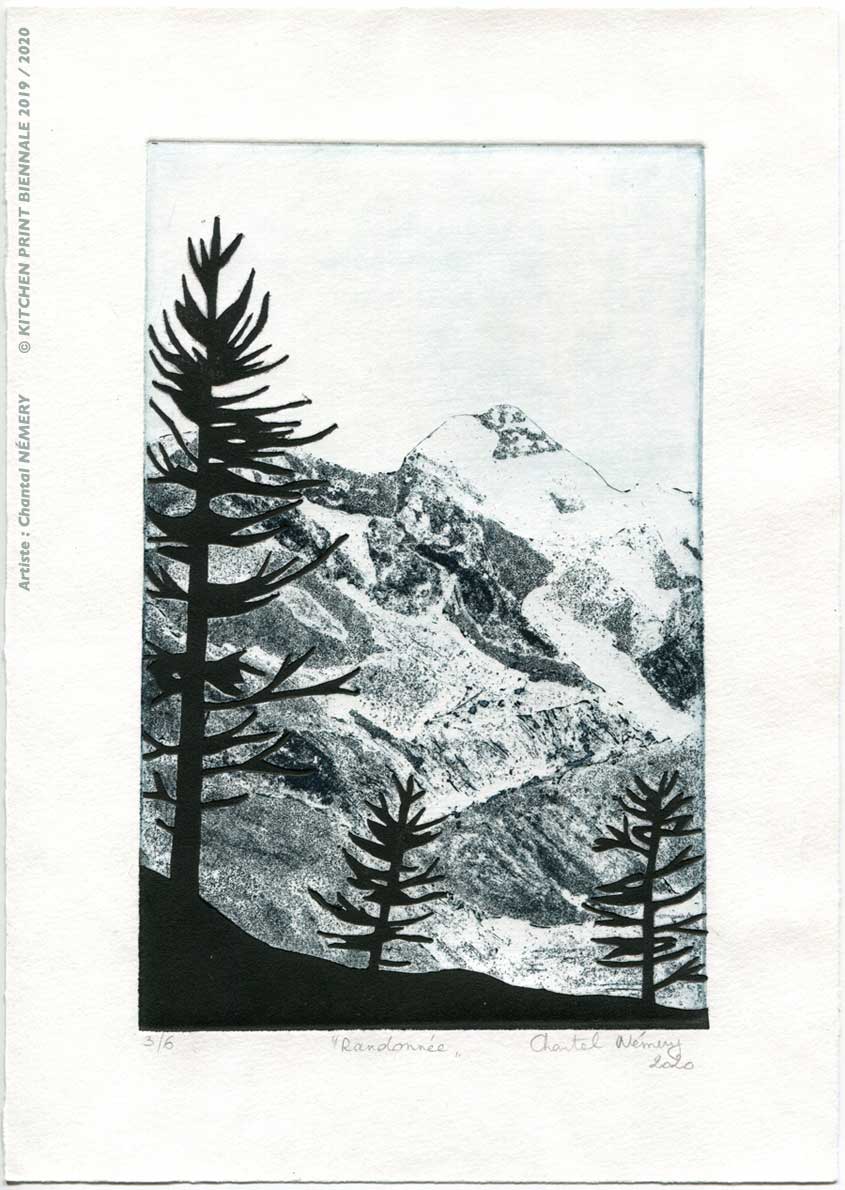 Title 'Randonnée', etching with salt on copper + carborundum (abrasive paper), 29 x 21 cm, edition 3/6. Belgique
I am inspired by clouds and wide open spaces, here a landscape encountered at random during my « hikes ».
(The title 'Randonnée' means 'hikes' or 'hiking')
Je m'inspire des nuages et des grands espaces, ici un paysage rencontré au hasard de mes « randonnées ».
Eau forte au sel sur cuivre + carborundum (papier abrasif)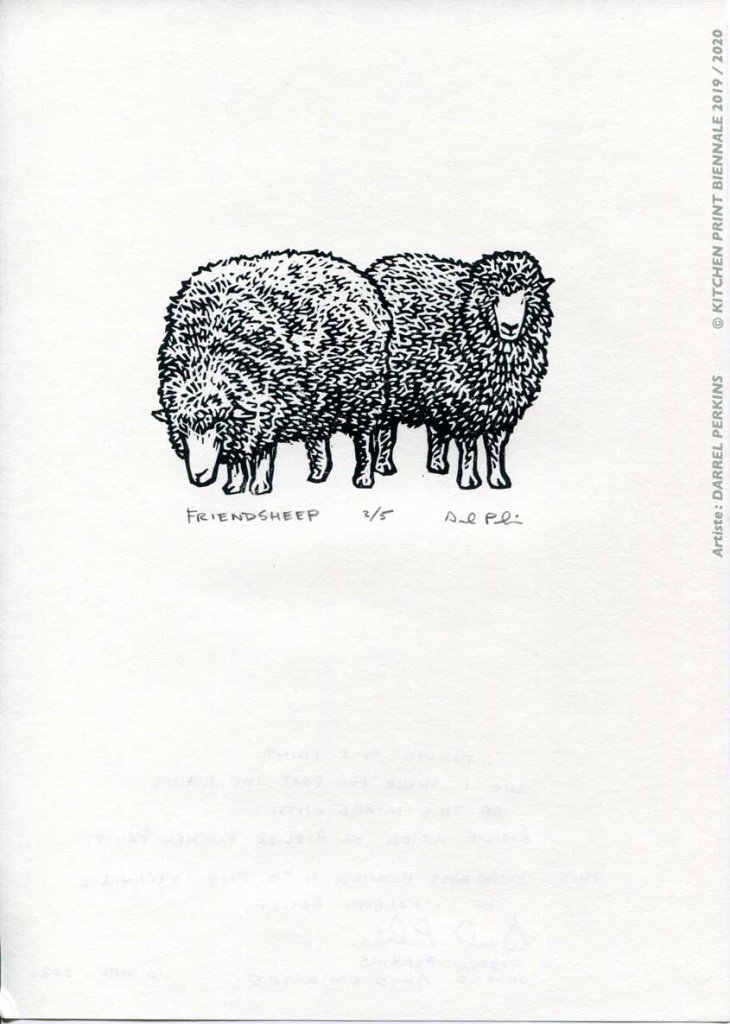 'Friendsheep', linocut, 29 x 21 cm, edition 2/5. United States of America
My subjects tend to depict the human form to portray a narrative scene, frequently with nautical, literary, or philosophical tones. This print is intended as a gift to a friend. It emphasizes the texture-making qualities of relief carving. It's good to know that the concept of sheep following each other is universal!
Word play with 'friendship' and 'sheep' for the title 'friendship'. NDLR
Mes sujets ont tendance à dépeindre la forme humaine pour représenter une scène narrative, souvent avec des tons nautiques, littéraires ou philosophiques. Cette estampe a été conçue comme un cadeau à un ami. Elle souligne les qualités de texture de la gravure en relief. Il est bon de savoir que le concept de moutons se suivant est universel !
Le titre « Friendsheep » est un jeu de mots composé avec « friendship » signifiant « l'amitié » et « sheep » pour le mouton.
---
INFOS CONCOURS KITCHEN PRINT BIENNALE
Dans l'attente de recevoir d'autres estampes et de les exposer dans la galerie web de ce site ICI. La date limite d'envoi des estampes est prolongée jusqu'au 07 février 2021, mais si vous avez déjà une image à présenter, mon conseil est de ne pas tarder à l'envoyer. Le lien sur le règlement du concours est ICI.
Looking forward to receiving other prints and exhibiting them in the web gallery of this site HERE. The deadline for receiving prints is extended until February 07, 2021, but if you already have an image to present, my advice is to send it as soon as possible. The link on the contest rules is HERE.
Les 9 membres du jury du concours liste ICI ont aussi hâte de découvrir toutes ces images qui sont le reflet d'artistes tous uniques en leur genre mais aussi, plus largement, le reflet de notre humanité à tous.
The 9 members of the jury of the HERE list competition are also eager to discover all these images which are the reflection of artists all unique in their kind but also, more broadly, the reflection of our humanity to all.
Pour rappel, des "Kitchen Litho" et "Impression" sont à gagner. Les partenaires parisiens : la revue "Art & Métiers du Livre" et le fournisseur "JoopStoop ink & paper" seront heureux de vous offrir respectivement revues et matériel d'impression. Quant à moi, je fabriquerai des mitaines gravées au nom des gagnants !
As a reminder, 'Kitchen Litho' and 'Impression' prizes are to be won. The Parisian partners: the magazine 'Art & Métiers du Livre' and the supplier 'JoopStoop ink & paper' will be happy to offer you magazines and printing material respectively. As for me, I will make mittens engraved with the names of the winners!